Bank When and Where You Want!
At your child's game, sitting at work or out of state at college; the need to access your bank accounts can happen anywhere. For those times, Mobile Banking provides the access and tools you need to stay connected to your accounts, no matter where life takes you!
My bank is mobile...Just like my family
Our app is designed to be easy to use for anyone, from high school and college students to parents and grandparents. By simply logging in to the app, you can:
View account balances, even without logging into your account
Pay bills
Pay your family members and friends
Review past transactions
Transfer money across your accounts
Deposit personal checks using Mobile Deposit
*Demo requires Adobe Flash Player. Download the latest version of Adobe Flash Player.
Mobile Deposit
Don't want to drive to the bank to deposit your check? Mobile Deposit allows you to deposit a check with a few snaps of your phone's camera and a couple taps of your finger!
Mobile Deposit is only available with our full Mobile Banking app, so download it today!
Instant Balance
Have you ever been in a situation where you needed to quickly check your account balance? Instant Balance allows you to instantly check your account balances without having to login to Mobile Banking.
Once Instant Balance is set up, just tap the icon at the top of the app's logon page. Any accounts you chose during setup will show. It's the quick and easy way to stay on top of your balances!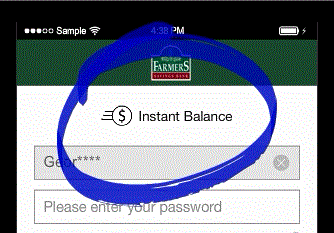 Card Valet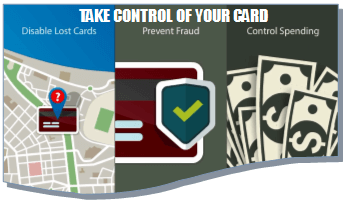 Introducing CardValet. Your card, on your terms.
CardValet allows you to turn your credit or debit card "on" or "off" anytime. When they're "off"…no one can use your cards. Turn them "on" when you're ready to use them:
Helps safeguard your cards from fraud
Lets you define areas where your card can be used
Limit purchase by the type of merchant
Set limits on the dollar amount
Instantly change your settings, giving you complete control over your credit or debit card.
Mobile Payments
There are two ways to make payments from our Mobile Banking app:
Bill Pay- make a one-time or recurring payment to a vendor, or manage a scheduled payment amount or date for any payee.
Popmoney- make person-to-person payments utilizing someone's email address or mobile number. Great for paying babysitters, your part of split tab or any other personal payment need!
Mobile Banking Options
See a full breakdown of each mobile banking option's capabilities
Mobile Banking Option
What You Can Expect
Mobile Application
A convenient and easy-to-use app for Smart Phone mobile device. Search for Farmers Savings Bank WI app from the iTunes or Google Play Store.
Mobile Browser
Receive enhanced banking capabilities with a similar look and feel to your Online Banking account.
Text Message Banking (standard text message rates apply)

Send text commands to FSB from your SMS-Text enabled phone to inquire about account balance and transaction information.

Text (BAL) to receive text message displaying balances for accounts enrolled in Mobile Banking.
Text (HIST) + (account nickname) to receive text message displaying transaction history for the account.
Text (ATM) + (zip code) or (BRANCH)+(zip code) to receive text message displaying ATM or branch locations for FSB.